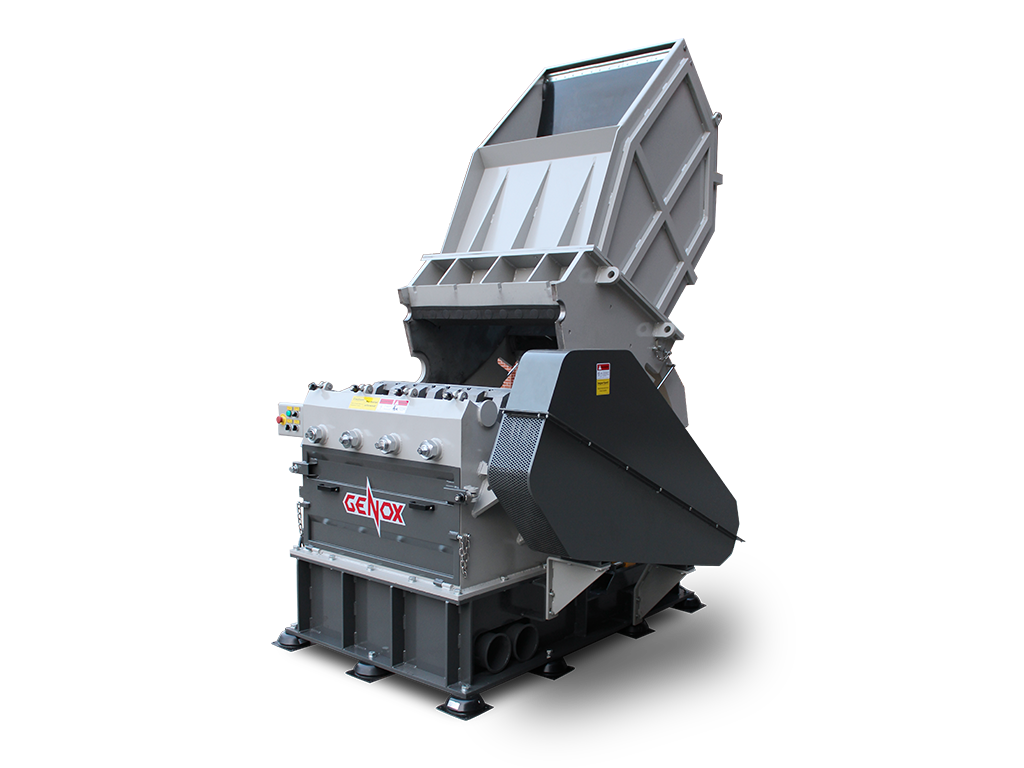 Typical applications
Plastics – Mouldings, Profiles, Films etc.
Rubber – Tyre Rubber, Reclaimed Rubber Products etc.
Paper & Cardboard – Confidential Documents, Production Waste, Packaging Materials etc.
Copper Cable – Household, Telecoms and Industrial Cables including S.W.A.
Textiles – Carpet (Rolls & Tiles) etc.
Foam – Production Waste.
Description
The GXC Series Heavy Duty Granulators are designed for high throughput size reduction of larger sized products in a single pass. These machines are also ideal for secondary granulation when positioned behind pre-shredders in various types of recycling systems. Incorporating various different methods of wear protection such as replaceable wear plates and resistant surface coatings, the GXC machines are well suited to processing abrasive, contaminated materials such as glass filled plastics and dirty films containing sands.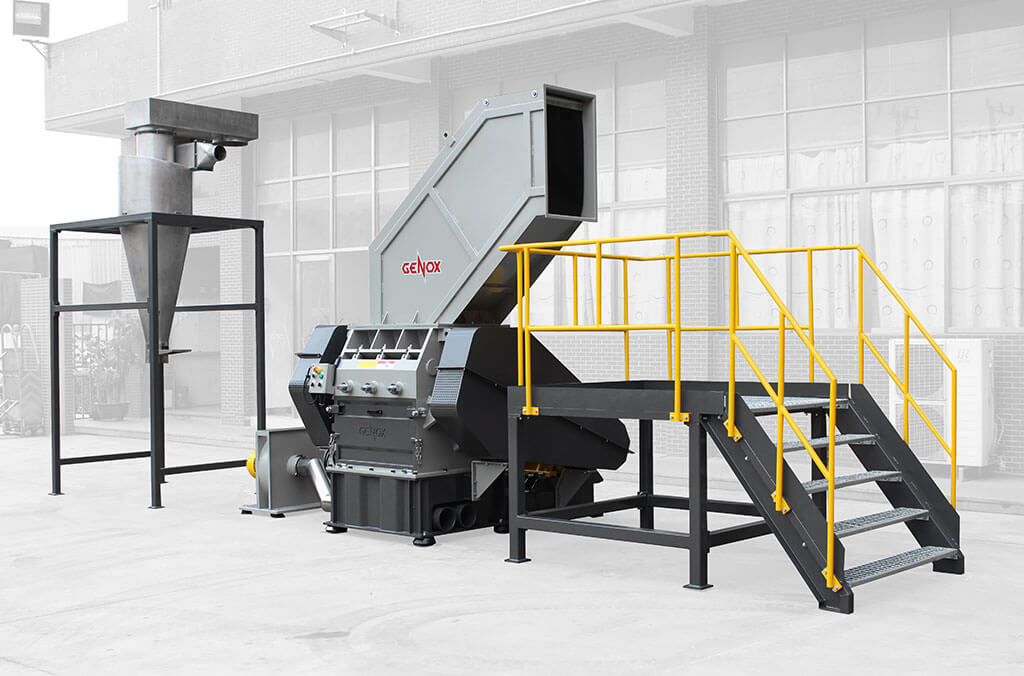 GXC Series Granulator features
Strong welded construction from heavy gauge steel plate.
Inclined, split cutting chamber design.
Oversized, outboard spherical rotor bearings – prevents bearing damage due to product migration.
Precision machined rotors (Forward set V-Rotor as standard).
Manual, electric and hydraulic chamber opening mechanisms – quick access to the cutting chamber for maintenance and machine clean downs.
Replaceable wear plates at either end of the rotor shaft.
Stand Alone Electrical Control Panel – using quality Schneider components and Siemens PLC's.
Tested, Approved and Certified to the applicable CE safety standards.
Enquire about the GXC-Series Granulator
GXC Series specifications
+ GXC800 - GXC1200
| | | |
| --- | --- | --- |
| Model | GXC800 | GXC1200 |
| Dimension (L x W x H) (mm) | 2165 × 1780 × 3090 | 2165 × 2180 × 3090 |
| Hopper Opening (L x H) (mm) | 750 × 820 | 1150 × 820 |
| Rotation Diameter (mm) | Ø 520 | Ø 520 |
| Operation Length (mm) | 800 | 1200 |
| Rotation Speed (RPM) | 520 | 520 |
| Screen Size(mm) | Ø 12 | Ø 12 |
| Number of Rotor Knives | 5×2 | 5×2 |
| Number of Counter Knives | 3×1 | 3×2 |
| Main Drive (kW) | 55~75 | 75~90 |
| Hydraulic Power Pack(kW) | 1.5 | 1.5 |
| Weight(kg) | Approx 4400 | Approx 5500 |
+ GXC1200T - GXC1600T
| | | |
| --- | --- | --- |
| Model | GXC1200T | GXC1600T |
| Dimension (L x W x H) (mm) | 2490 × 2270 × 3330 | 2490 × 2670 × 3330 |
| Hopper Opening (L x H) (mm) | 1150 × 1020 | 1550 × 1020 |
| Rotation Diameter (mm) | Ø 660 | Ø 660 |
| Operation Length (mm) | 1200 | 1600 |
| Rotation Speed (RPM) | 520 | 520 |
| Screen Size(mm) | Ø 12 | Ø 12 |
| Number of Rotor Knives | 7×2 | 7×4 |
| Number of Counter Knives | 3×2 | 3×2 |
| Main Drive (kW) | 90~132 | 110~160 |
| Hydraulic Power Pack(kW) | 1.5 | 1.5 |
| Weight(kg) | Approx 7250 | Approx 8500 |
+ GXC1200G - GXC2000G
| | | | |
| --- | --- | --- | --- |
| Model | GXC1200G | GXC1600G | GXC2000G |
| Dimension (L x W x H) (mm) | 2650 × 2470 × 3900 | 2650 × 2870 × 3900 | 2650 × 3270 × 3900 |
| Hopper Opening (L x H) (mm) | 1160 × 1150 | 1560 × 1150 | 1960 × 1150 |
| Rotation Diameter (mm) | Ø 800 | Ø 800 | Ø 800 |
| Operation Length (mm) | 1200 | 1600 | 2000 |
| Rotation Speed (RPM) | 480 | 480 | 480 |
| Screen Size(mm) | Ø 12 | Ø 12 | Ø 12 |
| Number of Rotor Knives | 9×2 | 9×4 | 9×4 |
| Number of Counter Knives | 3×2 | 3×2 | 3×4 |
| Main Drive (kW) | 110~160 | 160~250 | 250~315 |
| Hydraulic Power Pack(kW) | 1.5 | 1.5 | 1.5 |
| Weight(kg) | Approx 9300 | Approx 11800 | Approx 15500 |