BH Series Single Shaft Shredder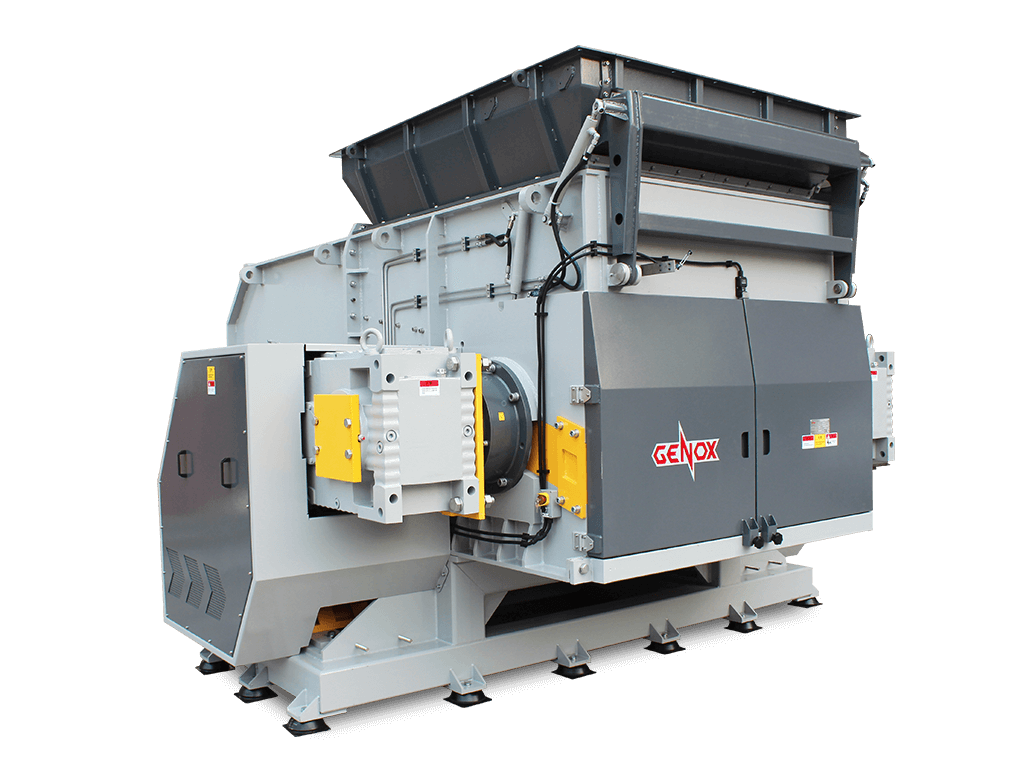 Typical Applications Include:
Plastics – Films, Mouldings, Purging/Lump, Profiles,  etc.
Timber/Wood – Pallets, Joinery Waste, Green Waste etc.
Paper & Cardboard – Confidential Documents, Production Waste, Packaging Materials etc.
Copper Cable – Household, Telecoms and Industrial Cables including S.W.A
Aluminum – Drinks Cans (UBC's), Swarf, Cables etc.
Textiles – Carpet (Rolls & Tiles), Garments etc.
Security Destruction – Counterfeit Items, Faulty Goods, Out of Date Stock etc.
Foam – Production Waste etc.
Mixed Household & Commercial Waste – RDF/SRF Production
Description
The BH Series Single Shaft Shredders are heavy duty size reduction machines designed specifically for processing a wide range of materials. These shredders are ideal for hard and voluminous products, and the powerful, wear-resistant machine structure makes it a well-suited option for demanding recycling tasks. The BH Series Single Shaft Shredders are supplied and installed by Genox UK.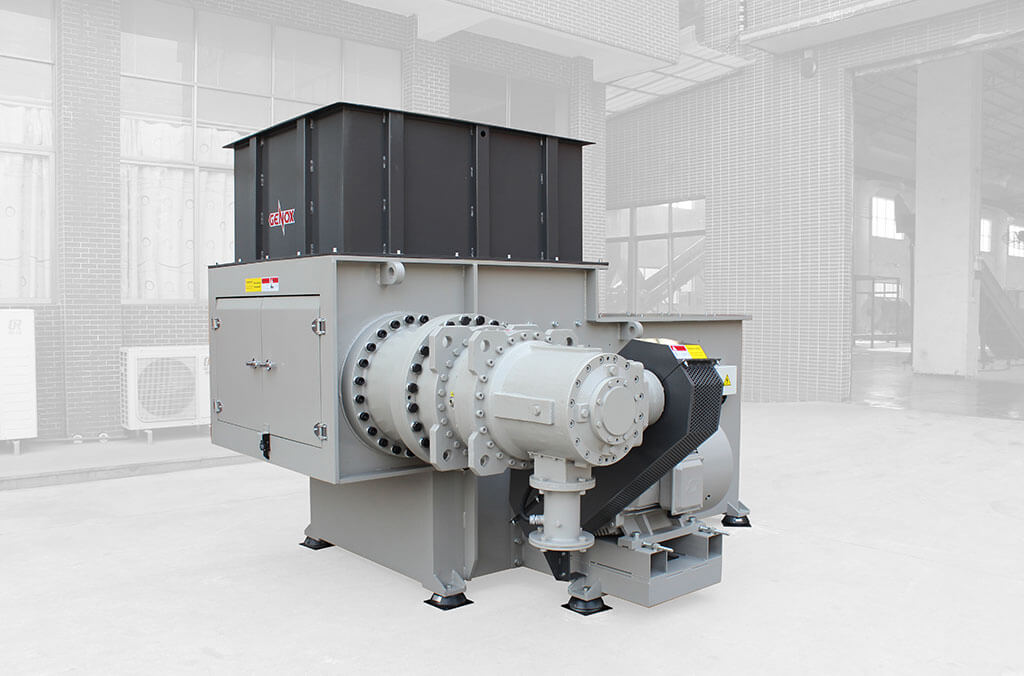 BH Series Shredder features
Energy Efficient + maximum cutting force & productivity
Shock absorbing gearbox reduces stress on drive components
Rotor Knives can be rotated and used on four edges
Quick Change screens for accurate particle size control
Twin speed hydraulics with integrated air cooler
Pusher drawer mounted on heavy duty rollers
Long life counter Knives can be adjusted to maintain cutter clearance
Segmented shredding chamber floor with brass guides
Stand-alone electrical Control Panel with Siemens PLC control system
Tested, approved and certified to the applicable CE safety standards
Enquire about the BH-Series Shredder
BH Series specifications
+ BH1500 - BH2000
| | | |
| --- | --- | --- |
| Model | BH1500 | BH2000 |
| Dimension (L x W x H) (mm) | 3710 × 2880 × 2530 | 3710 × 4150 × 2530 |
| Hopper Opening (L x H) (mm) | 2080 × 1880 | 2080 × 2380 |
| Discharge Height (mm) | 720 | 720 |
| Rotation Diameter (mm) | Φ480 | Φ480 |
| Operation Length (mm) | 1500 | 2000 |
| Rotation Speed (RPM) | 80 | 80 |
| Ram (mm) | 1100 | 1100 |
| Number of Rotor Knives | 84+6 | 95+6 |
| Number of Counter Knives | 3+3 | 4+4 |
| Main Drive (kW) | 90 | 55+55 |
| Hydraulic Power Pack (kW) | 2.25 | 2.25 |
| Weight (kg) | Approx 11110 | Approx 14800 |
+ BH1700~BH2800
| | | | |
| --- | --- | --- | --- |
| Model | BH1700 | BH2200 | BH2800 |
| Dimension (L x W x H) (mm) | 3920 × 2750 × 2720 | 3920 × 4500 × 2720 | 3920 × 5600 × 2720 |
| Hopper Opening (L x H) (mm) | 2380 × 2080 | 2380 × 2580 | 2380 × 3180 |
| Discharge Height (mm) | 720 | 720 | 720 |
| Rotation Diameter (mm) | Φ650 | Φ650 | Φ650 |
| Operation Length (mm) | 1650 | 2240 | 2840 |
| Rotation Speed (RPM) | 80 | 80 | 80 |
| Ram (mm) | 1100 | 1100 | 1100 |
| Number of Rotor Knives | 94+6 | 109+6 | 125+6 |
| Number of Counter Knives | 3+3 | 4+4 | 5+5 |
| Main Drive (kW) | 132 | 90+90 | 110+110 |
| Hydraulic Power Pack (kW) | 7.5 | 15 | 15 |
| Weight (kg) | Approx 13800 | Approx 18000 | Approx 21000 |
+ BH1800 - BH3000
| | | | |
| --- | --- | --- | --- |
| Model | BH1800 | BH2400 | BH3000 |
| Dimension (L x W x H) (mm) | 4070 × 4070 × 2870 | 4070 × 4670 × 2870 | 4070 × 5270 × 2870 |
| Hopper Opening (L x H) (mm) | 2530 × 2180 | 2530 × 2780 | 2530 × 3380 |
| Discharge Height (mm) | 800 | 800 | 800 |
| Rotation Diameter (mm) | Φ800 | Φ800 | Φ800 |
| Operation Length (mm) | 1790 | 2390 | 2990 |
| Rotation Speed (RPM) | 80 | 80 | 80 |
| Ram (mm) | 1100 | 1100 | 1100 |
| Number of Rotor Knives | 106+6 | 124+6 | 156+6 |
| Number of Counter Knives | 3+3 | 4+4 | 5+5 |
| Main Drive (kW) | 90+90 | 132+132 | 160+160 |
| Hydraulic Power Pack (kW) | 11 | 15 | 15 |
| Weight (kg) | Approx 16000 | Approx 20000 | Approx 27000 |