M Series Twin Shaft Shredder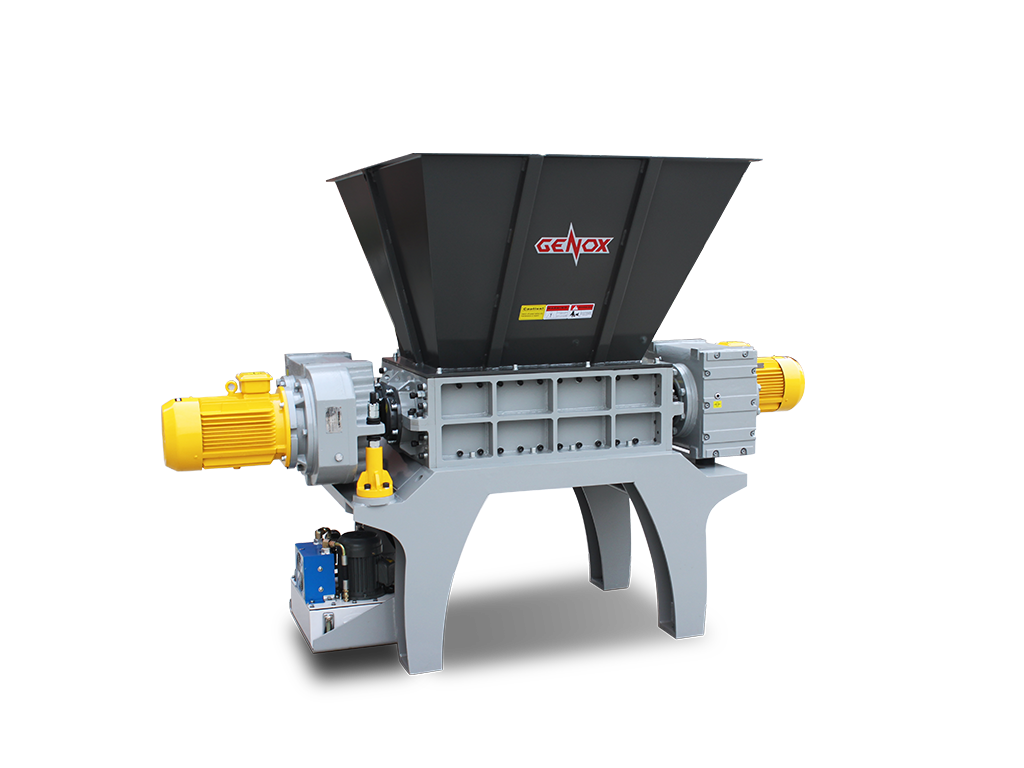 Typical applications
Plastics –Mixing Plastics, Plastic Drums or Containers, etc.
Electronic Scrap – WEEE Directive Materials.
Tyres – Car Tyres, Debeaded Truck Tyres.
Wood – Pallets etc.
Packaging Materials – Cardboard etc.
Metals – Lead, Aluminium, Copper etc.
Textiles.
Description
The M Series Twin Shaft Shredder operates at low speed, at high torque which minimizes noise and power consumption – whilst achieving high throughput rates. These machines are particularly suited to the size reduction of bulky or voluminous materials which could include contamination such as metals or stones. The M Series Twin Shaft Shredder is supplied and installed by Genox UK.
M Series Shredder Features
Slow Speed High Torque Shredding Principle.
Low Dust and Low Noise Operation.
Rugged Low Maintenance Design.
Shock Absorbing Gearbox Mounting Arrangement reduces
Stress on Drive Components.
Strong Blades manufactured from high quality steels are suitable for shredding tough materials.
Two Piece Split Bearing Housing Arrangement enables quick access to bearings and rotor.
Advanced Adjustable Sealing System prevents product migration and ensures long bearing service life.
Stand Alone Electrical Control Panel with Siemens PLC Control System.
Tested, Approved and Certified to the applicable CE safety standards.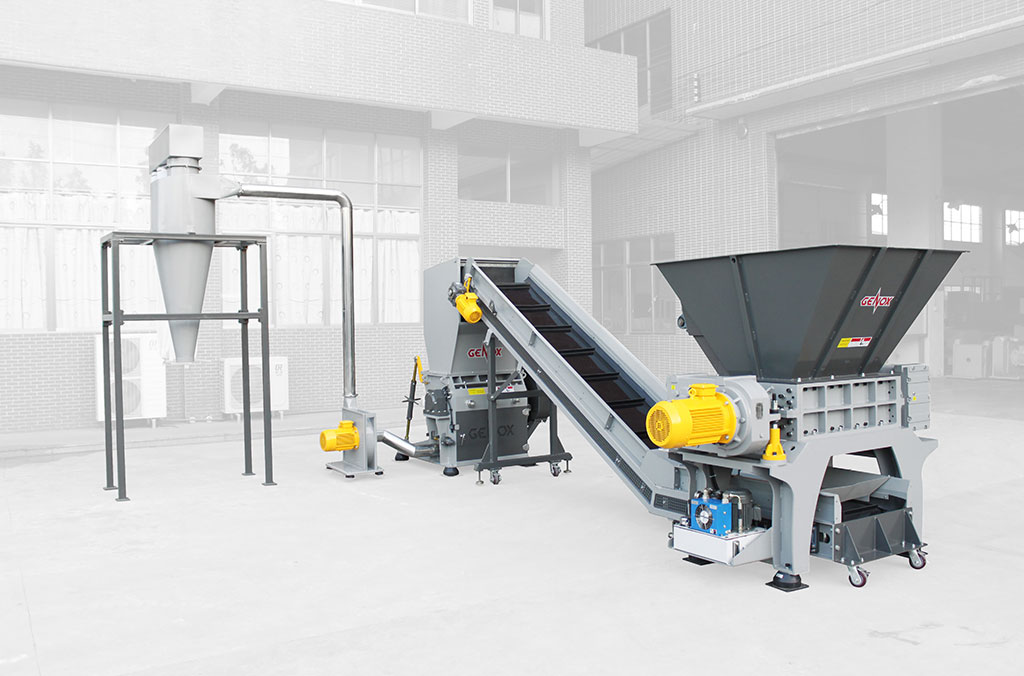 Enquire about the M-Series Shredder
Specifications  – 
M300-M1200
Model
M300
M400
M600
M800
M800T
M1000
M1200
Main Drive(kw)
7.5
7.5
5.5+5.5
7.5+7.5
15+15
15+15
15+15
18.5+18.5
18.5+18.5
18.5+18.5
22+22
22+22
22+22
30+30
30+30
30+30
Rotation Diameter(Φmm)
276
276
276
276
430
430
430
Shredding width(mm)
400
500
600
800
800
1000
1200
Rotation Speed(rpm)
13
13
14
14
5.4-12
5.4-12
5.4-12
6.0-12
6.0-12
6.0-12
7.5-12
7.5-12
7.5-12
10-12
10-12
10-12
Center distance(mm)
210
210
210
210
320
320
320
Number of Blades
15thickness
20
/
40
/
/
/
/
20thickness
15
20
30
40
40
/
/
40thickness
/
10
/
20
20
25
30
50thickness
/
/
/
/
16
20
/
The quantity of blade hocks
Standard rotor
1/2/3/6
1/2/3/6
1/2/3/6
1/2/3/6
1/2/3/6
1/2/3/6
1/2/3/6
Dimension
L
1500
1587
2530
2710
3055
3315
3574
W
1222
1222
1275
1275
1835
1885
1965
H
1850
1850
1850
1850
2200
2200
2200
A
1040
1140
1330
1530
1523
1723
1923
B
1154
1154
1194
1194
1418
1418
1418
C
604
604
643
643
875
875
875
D
518
518
560
560
895
895
895
E
840
940
770
970
1016
1216
1416
Weight
1370
1470
2080
2300
4380
4520
5120