X Series Twin Shaft Shredder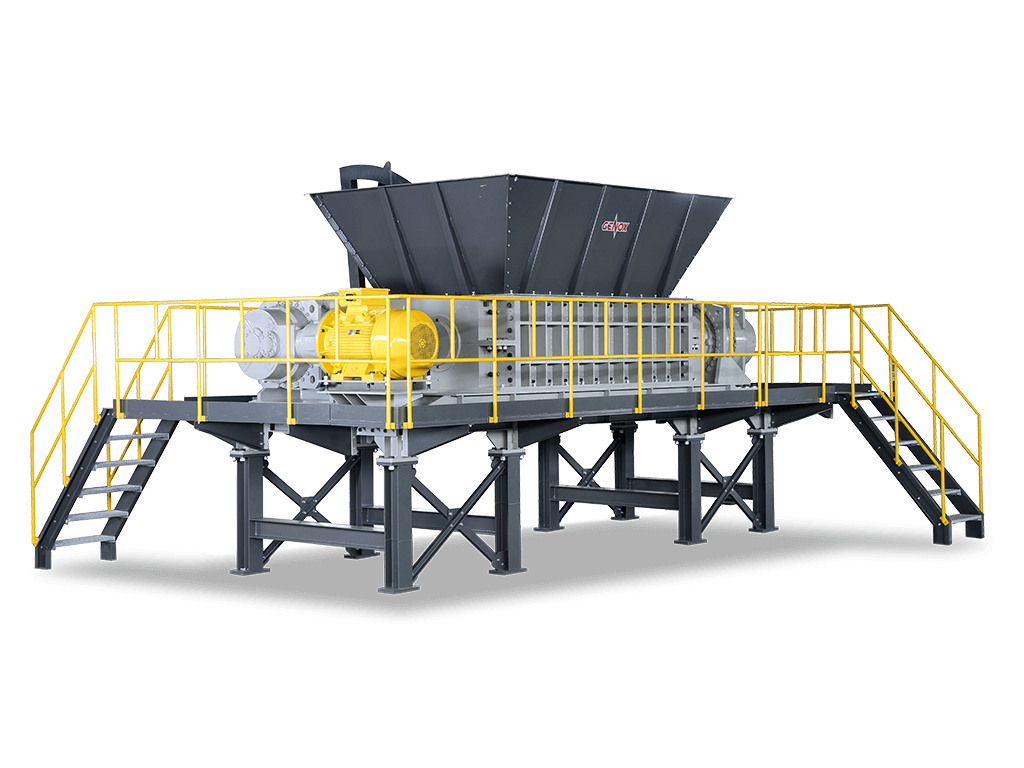 Typical applications
Tyres – Car, Truck and Off The Road – Earthmovers.
Steel – Car Body Shells, Sheet Scrap, Drums etc.
Electronic Scrap – WEEE Directive Materials.
Wood/Timber – Pallets, C&D Waste etc.
Aluminum – Castings, Profiles, etc.
Bulky Waste – Mixed Household, Commercial, Pulper Waste from Paper Industry etc.
Description
X Series Twin Shaft Shredders are extremely high torque, high throughput, rotating shear type size reduction machines often used for pre-shredding of large volume or high strength materials which may contain contamination. The unique modular split chamber design, provides excellent access to key components which reduce maintenance downtime and service costs. X Series Twin Shaft Shredders are supplied and installed by Genox UK.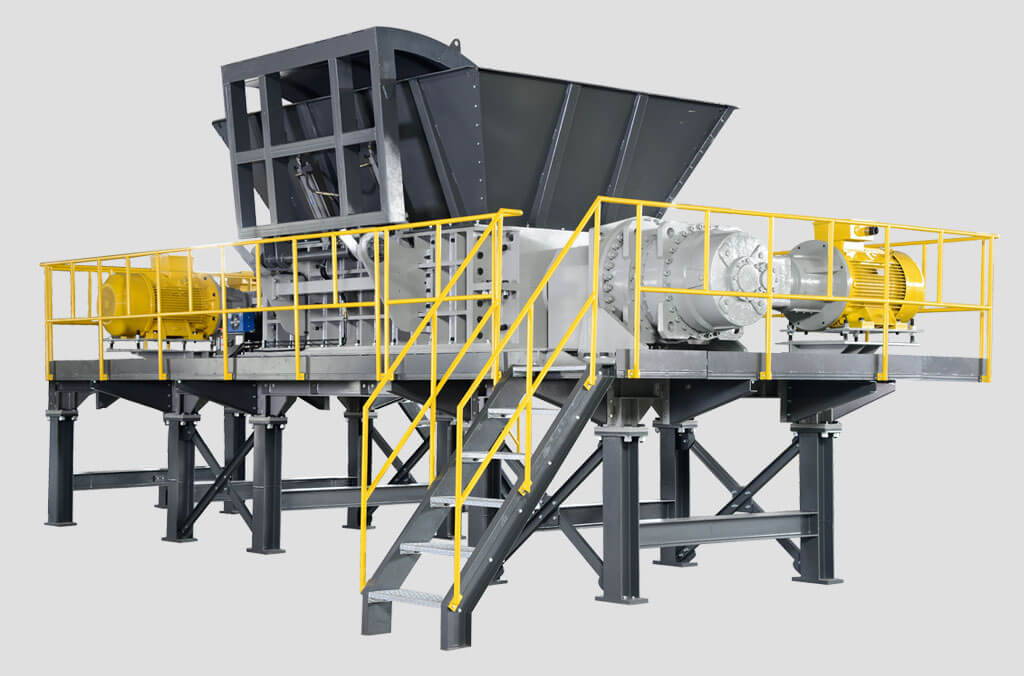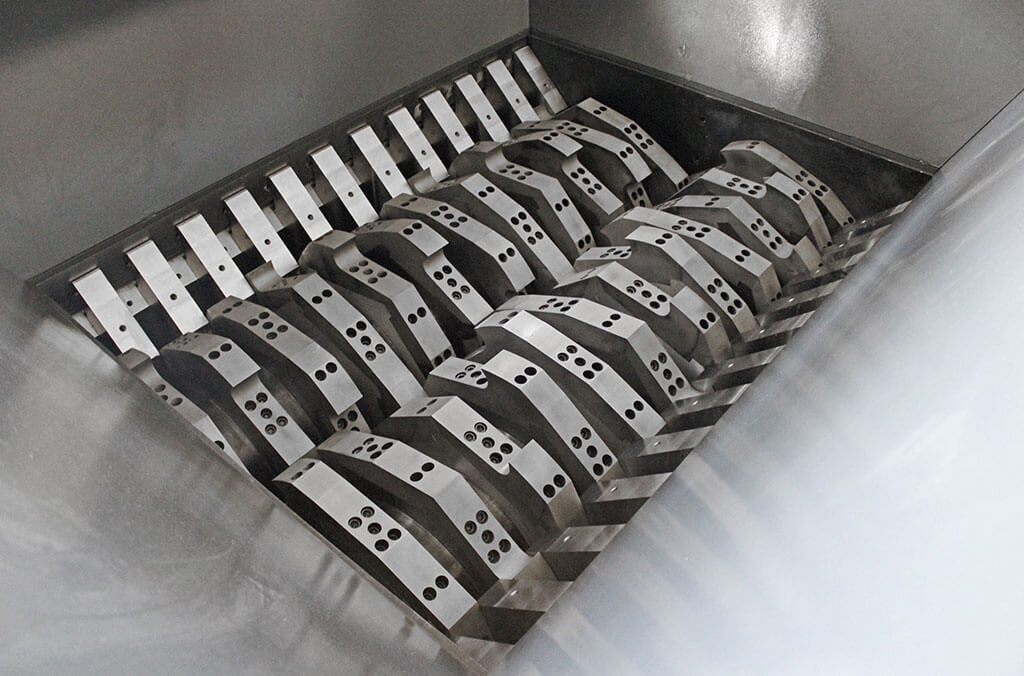 X Series Shredder Features
Slow Speed High Torque Shredding Principle.
Low Dust and Low Noise Operation.
Rugged Low Maintenance Design.
Shock Absorbing Gearbox Mounting Arrangement reduces
Stress on Drive Components.
Strong Blades manufactured from high quality steels are suitable for shredding tough materials.
Two Piece Split Bearing Housing Arrangement enables quick access to bearings and rotor.
Advanced Adjustable Sealing System prevents product migration and ensures long bearing service life.
Stand Alone Electrical Control Panel with Siemens PLC Control System.
Tested, Approved and Certified to the applicable CE safety standards.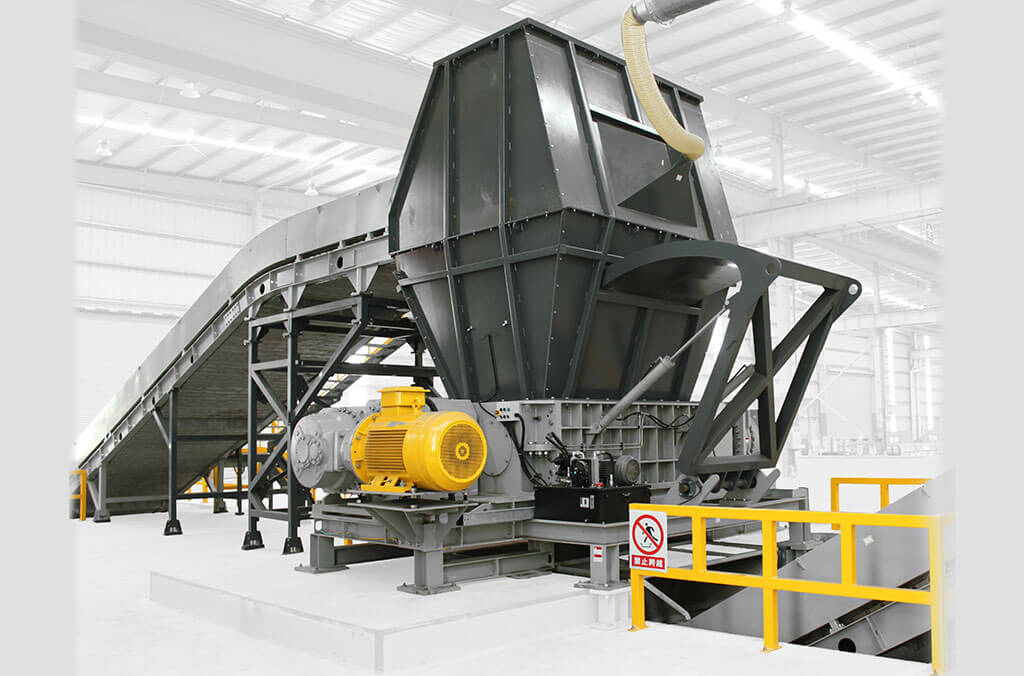 Enquire about the X-Series Shredder
Specifications  – 
X1000-X2500
Model
X1000
X1300
X1600
X1500
X1800
X2200
X2500
Main Drive(kw)
30+30
30+30
30+30
55+55
55+55
55+55
55+55
37+37
37+37
37+37
75+75
75+75
75+75
75+75
45+45
45+45
45+45
90+90
90+90
90+90
90+90
55+55
55+55
55+55
110+110
110+110
110+110
110+110
Rotation Diameter(Φmm)
515
515
515
750
750
750
750
Shredding width(mm)
1000
1300
1600
1500
1800
2200
2500
Rotation Speed(rpm)
4.2-12
4.2-12
4.2-12
4.2-12
4.2-12
4.2-12
4.2-12
4.2-12
4.2-12
4.2-12
4.2-12
4.2-12
4.2-12
4.2-12
5.4-12
5.4-12
5.4-12
5.4-12
5.4-12
5.4-12
5.4-12
6-12
6-12
6-12
6-12
6-12
6-12
6-12
Center distance(mm)
400
400
400
610
610
610
610
Number of Blades
40thickness
25
32
40
37
45
/
/
50thickness
20
26
32
30
36
44
50
75thickness
13
17
21
20
24
29
33
100thickness
/
/
/
15
18
22
25
The quantity of blade hocks
Standard rotor
1/2/3/6
1/2/3/6
1/2/3/6
1/2/3/6
1/2/3/6
1/2/3/6
1/2/3/6
K type rotor
1/2/3/6
1/2/3/6
1/2/3/6
1/2/3/6
1/2/3/6
1/2/3/6
1/2/3/6
D type rotor
8
8
8
12
12
12
12
Dimension
L
4592
4892
5150
6340
6993
7110
7986
W
2210
2210
2270
2610
3045
3342
3284
H
2600
2600
2600
4000
4000
4000
3760
A
1765
2065
2365
2705
3005
3405
3560
B
1620
1620
1620
2445
2445
2445
2466
C
973
973
973
1545
1545
1545
1380
D
948
948
948
1550
1550
1550
1650
E
1590
1890
2190
1850
2148
3125
2820
Weight
8600
10300
11400
27700
32450
38600
46320